The UK National Ion Beam Centre
---
Virtual User Day (July 9th 2020 - 2pm-4pm)
On July 9th 2020 Thanks to all those who attended and made a contribution to our "Virtual User Day." Please follow this link for more information. The video posters are still open for those registered to make comments. It is still possible to add a poster and to register - just follow the instructions.
We are in the process of evaluating the contributions for the best student poster Prizes and will show these on the site very soon.
The "live" presentations from the afternoon (2pm-4pm) and the posters will be available for comment for 2-3 months after the event.
We are still looking for feedback both from the event and about the facilities we offer - please feel free to leave comments on the site.
---
The UKNIBC
The EPSRC UK National Ion Beam Centre (UKNIBC) provides a single point of access for the UK research community to world-leading ion beam modification and analysis infrastructure and expertise.
It is a collaborative delivery partnership between facilities at the University of Huddersfield, The University of Manchester and the University of Surrey.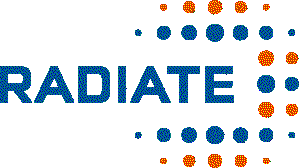 The UKNIBC is also part of the EU project RADIATE
More details of the Laboratories and their individual facilities can be found below:
---
About
We guide the research agenda, support research excellence and drive technology development and capability, upholding the UK's position at the forefront of the global research community.
EPSRC funded students, post-doctoral researchers and academic researchers have clear, fair and transparent access to the UK's multi-site network of ion beam modification and analysis capability, including pre and post processing facilities, simulation, modelling and analysis tools and complementary technical capability.
---
Contact
Professor Roger Webb
Tel: +44(0) 1483 689830
Email: r.webb@surrey.ac.uk
---